Dryers DPR 8-10kg. þurrkarar
The most advanced professional dryers on the market.
A professional dryer for a high performance laundry service
The new range of professional dryers is inspired by our industrial dryers, both for their robustness and their ergonomics but in an 8 and 10 kg format. The doors are larger in this product segment to facilitate loading and unloading operations. They have two available types of control: the simple EM electronic control or the ET2 microprocessor with touch screen and many functions, both controls being designed to adapt very easily to OPL or self-service laundries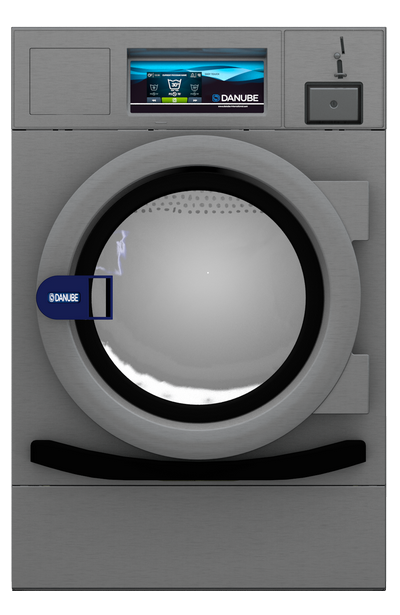 What are the main features of Danube professional dryers?
Grey skinplate outer casing (except BASIC version: white painted panels) Axial air flow, galvanized drum EM electronic control: selection of time and temperature ET2 control with a 4,3″ touch screen, fully programmable Versatile: same model for coin and OPL Stackable with a WPR washer extractor or another DPR dryer with convertible panel from top to bottom Wide drawer as fluff filter Electric heating with 2 possible configurations: 4,5 or 7,5 kw (except Basic: 4,5 kw) BASIC EM model with white painted panels, EM control and galvanized drum for the tightest budgets New gas heating models (EM, ET2 and Basic)
What additional options are available for DPR 8-10
CARE IRON: humidity control (ET2 models) Communication kit Danube Online (ET2 models) Reverse door opening (except BASIC) Stainless steel outer casing (except BASIC) Stainless steel drum Programming console for EM control Ergonomic plinth for loading height, in skinplate or stainless steel (except BASIC)